In my
previous post
on the Frank Family, I noted how there are few living Frank descendants in America. But this does not mean we do not have many relatives. The Frank family has always been closely tied to the Backer family of Fulton, Callaway County, Missouri. Jacob Frank married into the larger Backer family, which came over from Burbach, Prussia in 1854.
Katherine came to Fulton with her father, two uncles - John Henry and Phillip Henry, their wives and their many children. At least 15 Backers immigrated together. The family was Lutheran, but after they immigrated, most of the family attended the First Presbyterian Church in downtown Fulton.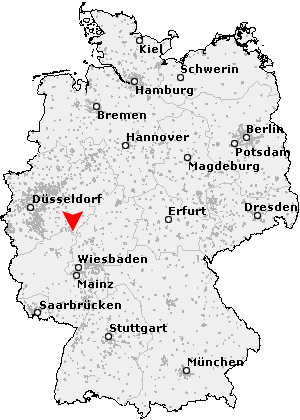 Location of Burbach in North Rhein-Westphalia, Germany


Burbach Coat of Arms
Katherine's father was born Johann Engelberth Becker (the name Backer is actually an Anglicization of the name Becker) in Burbach, Prussia, which is today in the German state of Nordrhein-Westfalen (North Rhein Westphalia). At the time of their immigration, Burbach was part of the Prussian empire. Before that it was part of the Duchy of Nassau. I have been able to trace the Becker family back to Arnoldus Becker, born about 1690 in Burbach.
After moving their families to Fulton, the three Backer brothers started farms. Katherine lived on a farm with her father Engle, and her stepmother, Julianne (Katherine's mother died in childbirth in Germany), three brothers, a sister, and six step brothers and sisters. Though they started as farmers in Fulton, most of the family did not remain farmers. "Becker" means baker in German, which was in fact exactly what the Becker/Backer family did. Some of the Backer children went into business as bakers in the town of Fulton, a business which the Frank family eventually joined. The family has flourished in running businesses of all kinds, including blacksmiths, teamsters(truckers in the horse and buggy days), grocers, and tailors.
Today there are a number of Backers still in the Fulton area. In fact, at least one very prominent business bears the family name, the Backer Potato Chip Co. The Backer family also founded one of Fulton's chief tourist attractions, the Backer Auto World Museum, an impressive collection of antique automobiles displayed in a period setting.
Unfortunately I do not have extensive documentation for the Backer family in Germany. Most of my information is courtesy of the transcribed records found at
Familysearch.org
, a website with databases of church and civil records of baptisms, births and deaths in many European countries. Eventually I plan to order the microfilm of the original records and will post copies of the records once I get them. Until then, here are some other links regarding the Backers and Burbach that you might find interesting:
Ancestry Tree for Katharine Elizabeth Backer
(PDF)
Descendants of Arnoldus Becker
(PDF)
Burbach, North Rhein-Westphalia on Wikipedia
Burbach Homepage (Google Translation)
Obituary of Bill Backer, president of Backer Potato Chip Co. and founder of the Backer Auto World Museum, Fulton, Mo.
Backer Potato Chip Co.
Backer Auto World Museum